How does Raleigh stack up against MLB Expansion Front-Runners: Nashville & Salt Lake City?
With the MLB season over, it's time we start digging a little more into the expansion landscape. What regions will MLB be targeting when they add 2 new teams and how do we stack up?
Let's dive in…
First, let's set the stage. MLB wants to add 2 new teams. Most insiders believe they want to add one in the East and one in the West. At this moment, the presumed front-runners are Salt Lake City in the West and Nashville in the East.
Since Raleigh's direct competition will be Nashville, let's focus on them… When they launched (2019), Nashville was the first money-backed venture on the East Coast, vaulting them into front-runner status. But are they really the best East Coast market for MLB expansion?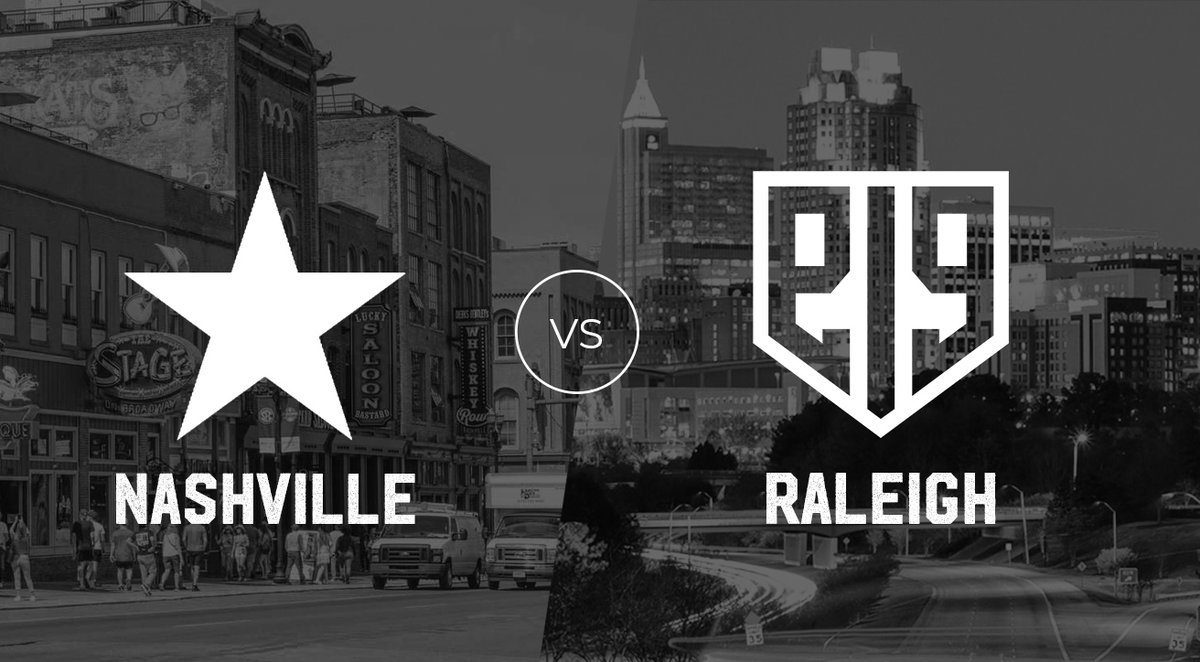 Let's first look at market metrics.
POPULATION:
To have a thriving MLB franchise you need to fill seats, and to do that, you need a strong population base.
While Nashville's national brand might have you think they're the larger market, they actually are not.

So we're bigger, but for MLB teams, it's media market that drives revenue.
MEDIA MARKET:
Luckily for us, we're ahead there as well. Our media market ranks #22 overall, while Nashville's comes in at #27.
Meanwhile, NC has 4 Top-50 media markets, while Tennessee has just one.

VISITORS:
Now for the real shock. Wake County had more visitors (17.8M) in 2022 than Nashville (14.4M).
Yes, Nashville's visitor spend is massive, but remember they also have NFL, MLS, NASCAR, MiLB & one of the largest music streets in America for folks to spend their money.

BILLIONAIRE INVESTORS:
Tom Dundon has stepped up to lead the push here in NC, while Nashville has yet to name one. In fact, they told the NYPost…
"I'm not sure that we need a billionaire investor to make this thing happen."
Maybe not, but that would be unprecedented.

If you're not going to have a billionaire, then you're likely going to have to rely heavily on public funding.
But that's no sure bet in Nashville either.
The city just approved funding for a $1.2 billion NFL stadium, & that's on the heels of $257 million for an MLS stadium.
n fact, the NYPost said this…
"Since the city of Nashville has helped fund a new Titans & MLS stadium, the political will to throw public dollars behind another stadium doesn't exist. Loar brought up the possibility that the state could help, but they can't bank on that."

So while Nashville may have celebrity endorsements & a more notable national brand, behind the scenes, the Raleigh market looks stronger in almost every metric.
And if the NYPost reporting is correct, Dundon's NC push may actually be the option with more legs & fewer barriers.
But we still have a long way to go until teams are awarded.
Things could/will change for all of the expansion hopefuls.
However, at this very moment, despite the media narrative, Raleigh may actually be the market best positioned to land an MLB franchise.